Home
The Crash of De Havilland Flamingo R2764
This site is dedicated to one of the most important aeroplane crashes of World War 2. Previously, very little was known about the crash of De Havilland Flamingo R2764 but now, on the eve of the 70th anniversary of the crash, a group of archaeology and aviation enthusiasts hope to unearth the story behind what happened on the 30th of April, 1942.
De Havilland Flamingo R2764 of 24 Squadron crashed at Great Ouseburn in Yorkshire on 30th April 1942. This plane was carrying 2 Air Ministry Staff and 4 High ranking Russians and is thought to be the largest single loss of Russian lives on English soil.
The plane had travelled from RAF Hendon in London to RAF Tealing near Dundee that morning and was returning after a short stop at RAF East Fortune near Edinburgh. The full details of the trip still remain a mystery and we are still picking at the truth.
On the return trip to London the plane developed engine problems just north of Myton on Swale when one of the pistons broke through the barrel and knocked off the adjacent cylinder. The plane looks as though it then tried to make for RAF Linton for an emergency landing carefully avoiding flying over the village but whilst turning near the school the Starboard engine and wing broke away and the plane crashed into the ground in the field just behind Vine House and was engulfed in flames. The Great Ouseburn Fire and Rescue where quickly on the scene and put the fire out but all on board where dead. RAF Linton were called by the local police and took charge of the incident and cleared the area of inquisitive locals.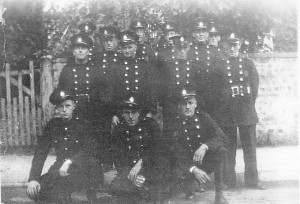 Great Ouseburn Fire & Rescue outside their HQ on Back Lane
A top secret military inquiry into the incident was instigated by Churchill and this has only recently become available, it is only now that the relatives of those on board are learning what happened to their loved ones.
Kevin Cale, Keith Scott & Joseph Priestley are here to tell you all about it.